www.italianfiddle.com
Compagnia Strumentale
Tre Violini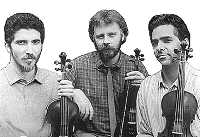 Fiddle music from Northern Italy
---
Compagnia Strumentale Tre Violini was born in 1987 by Bernardo Falconi, Giuliano Grasso e Giulio Venier, three fiddlers coming from different cities but sharing the same love for the Italian mountain fiddling.
After studying for several years the various Northern Italian fiddle styles, they edited in 1988 the book How to play Italian Fiddle, now available in english version.
The three fiddlers, accompanied by a guitar and a three-stringed small bass, reproposed the traditional line-up of Northern Italian mountains.
Their first CD Matuzine (1990) won in the year 1991 the Folkitalia Prize assigned by critics. The group recorded in 1995 their second CD Il Ballo Dei Pazzi, performing unpublished Italian fiddle tunes from manuscripts and printed sources from XVIIth to XIXth century.
---
Musicians
Bernardo Falconi: violin - Paderno Franciacorta (Bs)
Giuliano Grasso: violin, viola - Milano
Giulio Venier: violin, bassoctave violin - San Daniele (Ud) con:
Oliviero Biella: guitars - Bergamo
Paolo Manfrin: three-stringed small bass, liron - Cordenons (Pn)
DISCOGRAPHY
Matuzine
(1990)

Il Ballo Dei Pazzi
(1995)
---
BIBLIOGRAPHY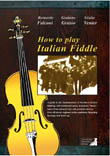 ---